Your house in the heart of Alghero
  B&B Calciufetta
Via Antonio Marongiu 12, 07041, Alghero, Sardegna.
1 Double room, 2 tween room, 6 beds, 2 bathroom
Who we are
An elegant apartment in the center of Alghero
"An unforgettable week !!
We felt like guests from friends! The reception of the hosts was fantastic and the advice on how to best spend our vacation were really very useful! The house has always been kept tidy and clean. Given the prices, we highly recommend this B & B to anyone who wants to spend a wonderful holiday here in Alghero!"
Abele L.
The rooms
The property has three bedrooms, one double and two twin, with bright double bathrooms in common.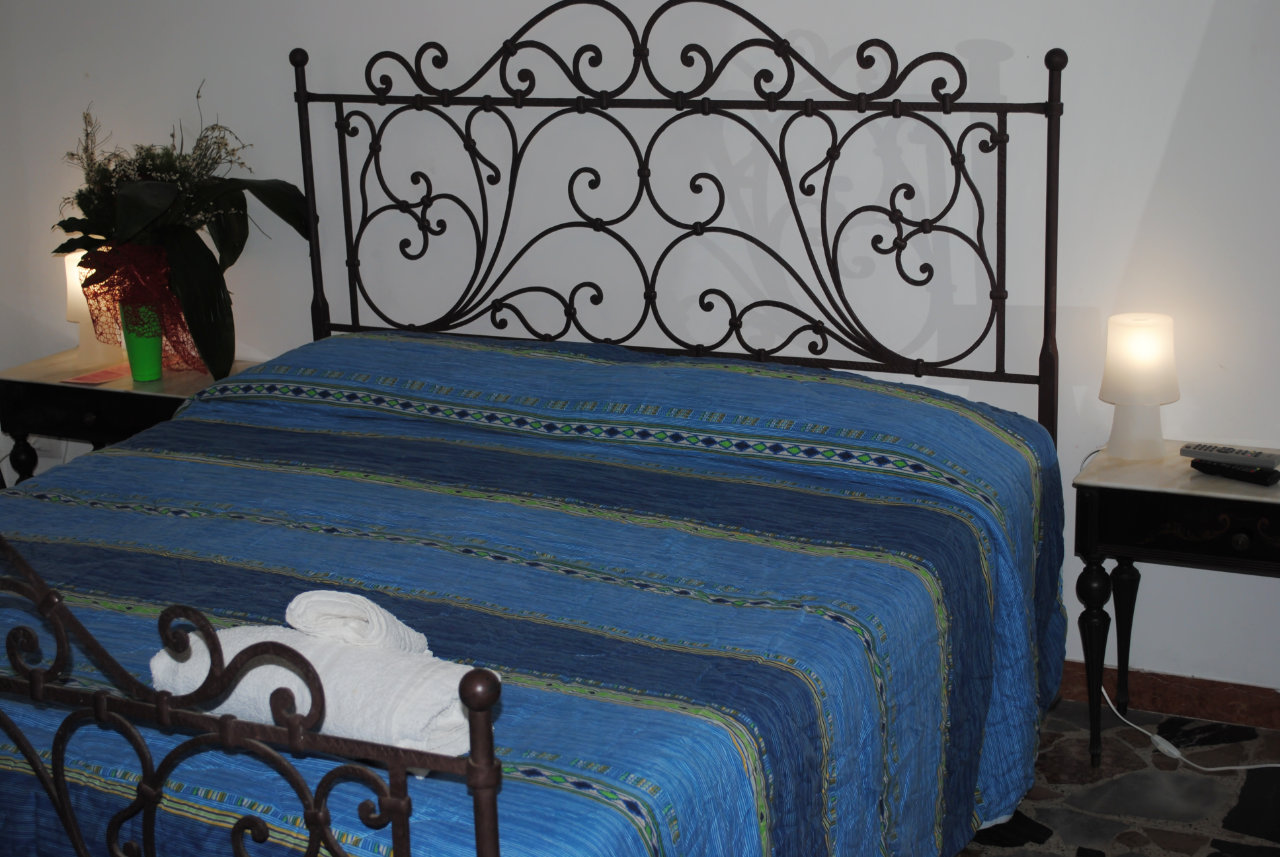 The double room
The double room "to my father", is composed, as tradition of family wants, from a double bed and a mirror completely handmade in wrought iron, spacious and comfortable.
Ample space

Double bed

Breakfast included
"Calciu" tween room
2 single beds, elegant wooden bedside tables and a comfortable leather armchair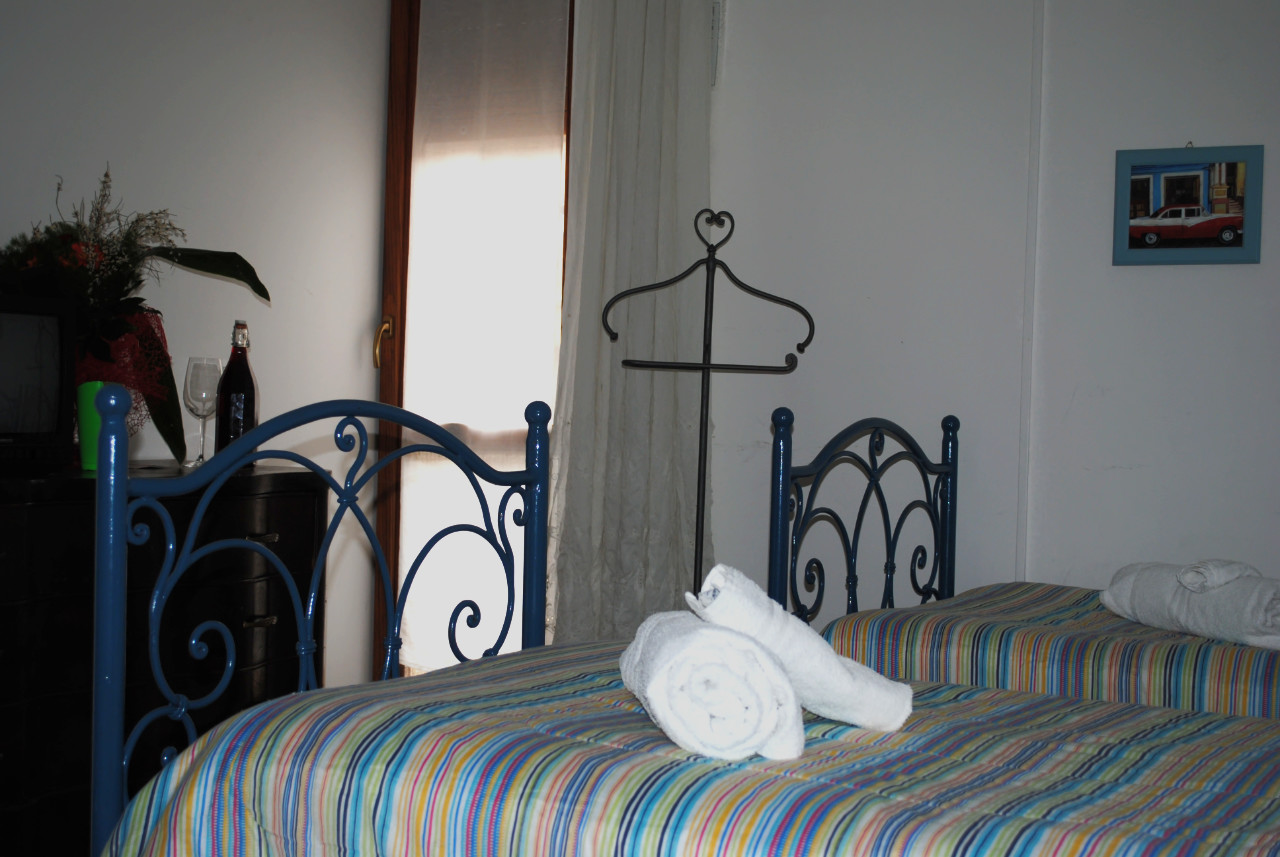 Tween room "Agua de mar"
The "agua de mar" bedroom offers its guests a comfortable double bed in antique style, like its mirror and the wonderful bedside tables with white marble top.
The rich Italian breakfast is served in a comfortable room, communicating with the charming kitchen. Cereal, mueslay, chocolate rice, yogurt, fruit, butter, milk, tea coffee (the coffee machine is available to guests at any time of the day) packaged snacks etc.
Checkin from 11:30 to 17:30
Checkout from 01:00 to 10:00
Children and extra beds
Children are welcome. There is no capacity for extra beds in the room.
Cancellation policies
Conditions relating to cancellation and prepayment vary depending on the type of accommodation.
News
Last rooms available for the offer for the fantastic Algherese New Year:
– minimum stay of two nights,
– two nights for two people € 120 plus tourist tax
– three nights for two poople € 150 plus tourist tax.
Do not miss the fantastic New Year in Alghero with many events
Information
Attractions and local neighbors
Nearest attractions
Port of Alghero 1.2 km
Alghero Sant'Agostino Station 2.1 km
Maria Pia Beach 3.9 km
Punta Negra Beach 5.9 km
Le Bombarde Beach 6.5 km
Lazzaretto Beach 7,3 km
Mugoni beaches 12 km
Cave of Neptune 13.7 km
Capo Caccia 13,8 km
Beauties of nature
Rio boat (realy small) River
0 km
Sea / ocean
1 km
Punta lily Monte
7 km
Baratz Lake
30 km
Restaurants and grocery stores
Restaurant the lantern 0.3 km
Supermarket SIGMA, VIA DE GASPERI, 34/36 0,3 km
Kura Kura coffee VIA GIOVANNI XXIII n ° 24 distance 0.6 km
Beaches in the surroundings
Lido di Alghero Beach White sand
Swimming, Water Sports, Food and Drink, Sunsets
b&b accogliente e ospitale, come chi lo gestisce.

Il bed & breakfast in questione è situato a dieci minuti a piedi da tutto ciò che serve (supermercato e centro città) per un soggiorno confortevole. La casa presenta cinque stanze, due bagni e un salone con cucina. La camera dove ho soggiornato una settimana era pulita, così come anche il bagno. Il titolare è stato non solo ospitale ma di grande aiuto per qualsiasi dubbio avessi circa i posti da visitare in quei giorni. Se un giorno dovessi trovarmi di nuovo ad Alghero, ritornerò sicuramente in questa struttura. Il prezzo del soggiorno comprendeva anche una ricca colazione (caffè, latte, marmellata, cereali, merendine).
Semplice ed efficace.

Siamo stati qui un paio di notti. Il b&b è in una buona posizione che permette di vivere il centro della città anche a piedi (15 minuti).
L'appartamento è semplice ma pulito e non manca di nulla (asciugamani,sapone,lenzuola). La colazione è piuttosto basilare ma fa la sua funzione. I proprietari sono stati gentili e disponibili.
Alghero low cost

Il Bed and Breakfast Calciufetta è il più economico di Alghero. Il rapporto qualità prezzo è ottimo. Il posto è tranquillo, la camera confortevole, il servizio ottimo, colazione con buone possibilità di diversificazione. Molto apprezzata la bottiglia di vino all'arrivo e la frutta fresca sempre disponibile.
bellissimo

Recensito 8 maggio 2014

fantastica posizione, camere grandi e accoglienti, il proprietario è molto gentile! gay friendly. davvero consigliato. zona strategica vicino al centro e tranquilla. la casa ha tutto il necessario, la colazione è ricca e gustosa. il rapporto qualità/prezzo è superlativoPiù
Il Bed and Breakfast Calciufetta è il più economico di Alghero. Il rapporto qualità prezzo è ottimo. Il posto è tranquillo, la camera confortevole, il servizio ottimo, colazione con buone possibilità di diversificazione. Molto apprezzata la bottiglia di vino all'arrivo e la frutta fresca sempre…Più
Una settimana indimenticabile!!

Ci siamo sentiti come ospiti da amici! L'accoglienza dei padroni di casa è stata fantastica e i consigli su come trascorrere al meglio la nostra vacanza sono stati davvero molto utili! La casa è stata sempre tenuta in ordine e pulita. Considerati anche i prezzi, consigliamo vivamente questo B&B a chiunque voglia trascorrere una stupenda vacanza qui ad Alghero!
 A due passi dal mare e dal bellissimo centro storico di Alghero.

Luogo luminosissimo ottima pulizia e splendida ospitalità. Il nostro ospite è stato straordinario nel consigliarti itinerari paesaggistici straordinari.sole in ogni stanza
 AДенис Медведев:   Отличное место для проживания, соотношение цены и качества – идеальное. Это квартира с тремя спальнями для жильцов, общей ванной и общей кухней. До моря – 10 минут пешком, до старого города – 15. Район – тихий и уютный. В номерах чисто и уютно. Хозяин Клаудио – чрезвычайно дружелюбный и любезный мужчина, встретил очень тепло, всегда с готовностью помогал с информацией о городе, окрестностях и в любых других вопросах. Рекомендуем!

punteggio   10.00
 

Śniadania bardzo słodkie : płatki na mleku, chce tostowy z masłem i dżemem, jogurt, rogalik i kawa/herbata/gorąca czekolada. Ale tu tak się je po prostu :). Ogólnie lokalizacja świetna. Polecam wykupić Beach busa bo wracając z plaż podjeżdża prawie pod dom :).Klima działa rewelacyjnie co jest w tym miejscu bardzo ważne. Ogólnie gorąco polecam.
punteggio  9.2

          nina

Jesteśmy bardzo zadowoleni. Bardzo dobry kontakt z właścicielem, czyste i przyjazne pokoje!  punteggio 9.2
schöner urlaub in schönen hostel

Das calciufetta war wirklich schön. Es hat absolutes Wohnzimmerflair, der Besitzer war wirklich sehr höflich und nett, die Zimmer wurden regelmäßig geputzt und wir haben uns sehr wohl gefühlt. in die altstadt läuft man höchstens 15 min. einziges manko, ist dass man zwar eine mikrowelle, aber keinen herd zum kochen zur verfügung hat.
ich würde auf jeden Fall wieder hingehen und kann es nur weiterempfehlen.
Visit Alghero and its surroundings